Friday, June 16th, 2006
---
5:54 am
- renegade and MAKE!
renegade_small
Originally uploaded by susanstars.

I can't wait for Renegade Craft Fair Brooklyn this weekend... I'll be at booth #9 with the ladies of PDX Super Crafty--please come say hi! Then, on Monday (6/19) we'll be teaching a fun Super Crafty shrink art class at MAKE Workshop--you can make your own rings, necklaces, earrings and magnets. And on Wednesday (6/20) I'm teaching an a-line skirt workshop at MAKE, too. You'll leave class with a reusable pattern and your very own custom-fitted handmade skirt, plus a matching scarf.


I set up flickr galleries with some pics of shrink art and skirts if you want to click for examples.

And after the craft marathon is over, I'm planning to go to Magnolia Bakery for cupcakes and H+M for t-shirts... yay!

Monday, May 29th, 2006
---
2:17 pm
- new skirt kits in my etsy shop!
kit contents
Originally uploaded by susanstars.

Okay, it only took me months, but I've posted skirt kits in three new fabrics (red and pink stripes, brown and tan stripes, and a black, red, and tan floral print) in my etsy shop--yay! I'll be adding some more fabric options soon, along with new vintage lace and trim variations, too. Here's a new photo of everything you get in the kit (black fabric version shown), including the new ball-point sewing machine needle and pink page of skirt sewing tips.

I'm also super excited about my DIY articles in the new Venus! I just got my copy of the summer issue (Amy Sedaris graces the cover) and I love it, start to finish--it covers everything from guerilla drive-in movies to an interview with Joan Jett. As for my pieces, I couldn't be happier. Chas Bowie contributed his luminous photographs to my Yard Sales 101 article (page 69), and my Aunt Susan provided the stellar advice in the sidebar. I also got to review Leah Kramer's new book, The Craftster Guide to Nifty, Thrifty, and Kitschy Crafts (page 74).

Other treats: Stacy Elaine Dacheux's feature on Artifact in San Francisco (page 78), Amy Sedaris's cupcake recipe (page 55), and a beachy keen how-to project from Crafty Chica (page 68). I heart Venus.

Sunday, May 14th, 2006
---
9:52 pm
- Finally back!
May 13 event
Originally uploaded by Sew Darn Jenny.

Well, after taking a few months off my journal for a lot of traveling, crafting and writing, I'm back!

I just did the very first Felt Club sale (motto: crafts that kick ass!) yesterday, which was a lot of fun. I got to meet
sewdarncute,
jek_a_go_go,
boygirlparty, and tons of other crafters, and see
biggerkrissy and her adorable Bigger Critters once again! It was hot and sunny out but I only got sunburned on one arm (note to self: bring sunscreen next time instead of just putting it on at home!!). Thank goodness for iced coffee right around the corner...

I did some great trades with Jekbot, The Singing Librarian, and Kokoleo, and got some delightful lavender shortbread from the bake sale table. Super fun and I'm so glad I got a chance to do the sale and hang out with so many cool LA crafters :)

In susanstars.com news, I'm about to add some great new fabrics to the skirt kit selections, and a few are on their way out (I'll warn you when they're getting super low). Some site updates are coming up soon too.

And if you're in New York next month, I'll be selling at Renegade Craft Fair with the girls of
Super Crafty! I can't wait!

xo
susan

Sunday, November 20th, 2005
---
2:59 pm
- happy holidays!
I can't believe it's already time to start thinking about holidays... wow. It's still sunny every day here in Southern California.

If you're interested in handmade treats in time for Christmas, Hanukkah, or the winter holiday of your liking, please order from susanstars by December 10. I'll mail all orders out via priority mail by December 14. And as my present to you, I'll send along a surprise skirt ornament with any skirt kit you buy--that's 2 skirts for the price of 1! :)

Have a lovely Thanksgiving, and if you're looking for some new holiday recipes, here are a few to try!
Monday, November 7th, 2005
---
2:37 pm
- LA Times feature!
I was interviewed for an article on crafting in the Los Angeles Times! Here's an excerpt for you-- click here to read the whole thing!

[the handmade life] by Gendy Alimurung
(originally published Nov. 6, 2005)

Click on any crafter's website, and you can follow the links down a rabbit's hole into a bustling homemade world. The word in cyberspace this summer was that a supercrafter named Susan Beal had moved to L.A. Susan Beal, otherwise known as "SusanStars," was all over the place, literally and figuratively. She commuted regularly between here and Portland but had grown up in North Carolina. She wrote "Monster Mash: How to Sew Polar Fleece Monsters" for a fabric store's in-house magazine; "Chains of Love: Jewelrymaking" and "Buy Curious: How to Buy a Sewing Machine" for Bust magazine; "Fly Girl," an article on bird appliqués, for Venus; "Seeding a Business: How to Be Your Own Huckster" for ReadyMade magazine. She was also the official West Coast Crafty columnist for Getcrafty.com. At 31, Susan was the epitome of the one trait that all crafters have in common: By definition, a crafter is a doer. It takes a certain kind of person to hand-knit a scarf—monster pattern or not.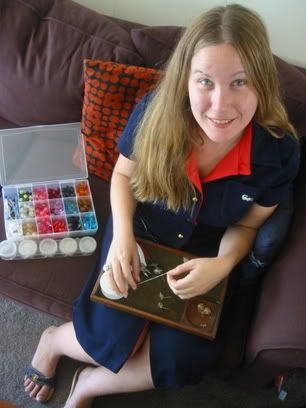 "It's so nice by the pool," Susan was saying. She lives in a modest apartment complex with a pool in the middle in Los Feliz. "Just having some water nearby is soothing." She said it so earnestly and so charmingly that you'd have thought she was talking about the pool at the Ritz rather than the tiny, leaf-strewn kidney bean a stone's throw from the curb, where someone had abandoned a sink, a mattress and a cat-scratched sofa. The neighborhood reminded me of the humble origins of the most famous crafter of all, who grew up in backwater Nutley, N.J., and now rules an empire—Martha Stewart is a notorious doer as well.

Susan's skirt was appliquéd with a yarn ball and two knitting needles and the motto "knit or die." She was working on the veil for her wedding. Her wedding dress was a throwback to the 1960s, in bright bubble-gum pink. Various completed projects were scattered about the living room: a quilted "laptop cozy"; homemade lip balms; a sweater whose arms had been drawn and quartered into a matching set of gauntlets, wristlets and CD pouch.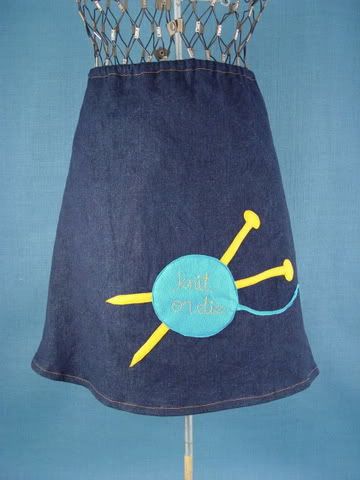 "Learning how to sew on a machine as an adult was like getting a new superpower," Susan said. She has a book of projects coming out that was co-written with three other crafters based on that very idea. The four are drawn on the back cover as superheroes, with go-go boots and capes a-flying. Among other things, they discuss how to make leg warmers for your dog, curtains for your car, a bike helmet cozy in the form of a ladybug, and five kinds of nipple "pasties."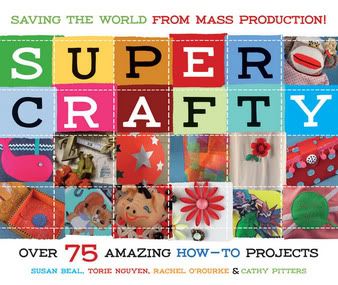 "When I'm doing business-related things, I sometimes have to take a break and make a shrine," Susan said. For Day of the Dead, she made a shrine out of her grandmother's old jewelry box. Inside was a gold chain with an ERA pendant. In the '70s her grandma had marched for the Equal Rights Amendment. "I didn't learn how to sew from her. She died before I got the chance. My mom, however, doesn't do anything crafty. It skipped a generation." She paused. "You know, you can make tiny shrines out of Altoids tins. I love those."

Susan says "love" a lot. And "fun." She loves the feeling that people have been doing crafts since time immemorial. She loves that when you're sitting around crafting, you'll start out talking about crafting, but then it will segue into something else. Something about your last vacation, or your family, or problems you're having with your boyfriend, and at the end of it, you've made a sweater. Sometimes she goes to estate sales and picks up abandoned projects, such as dresses that are half-finished, and then finishes them herself. It's about giving old things new life.
Wednesday, October 26th, 2005
---
10:47 am
- skirt kit in action!
Now that my new a-line skirt kits are out in the world, I wanted to post a few pics of what the skirt and scarf look like once you've stitched them up!

I recruited my lovely and talented spokesmodel Torie of Totinette to show off handmade skirt set #1, in the splashy pink and brown flower print...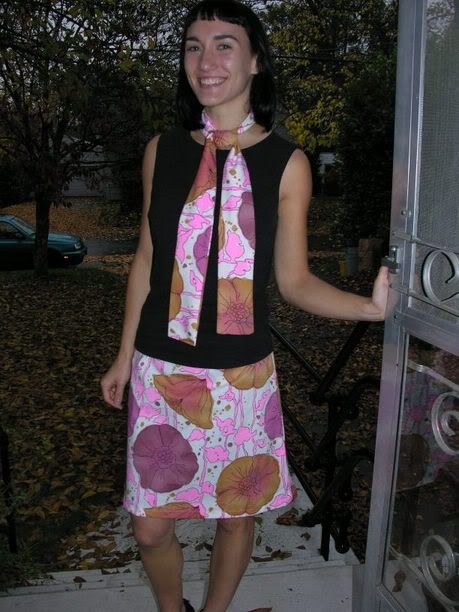 and here I am with the scarf in my hair: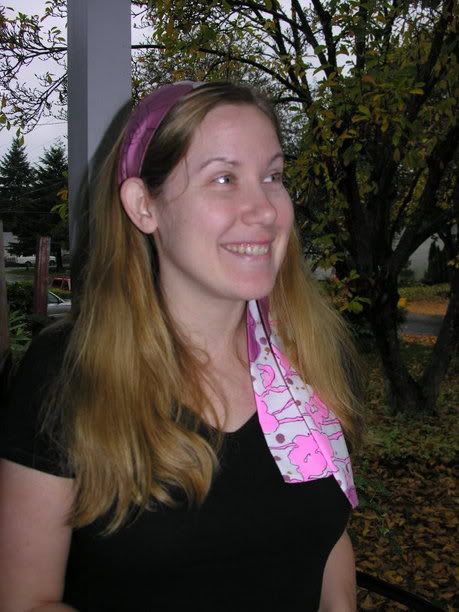 If you sew yourself one with the kit, I'd love to put a picture of you modeling your gorgeous creation up on my site... especially if you customize it with some cool appliques or trims :)

I love a-line skirts! They are so cute and flattering, and quick to make--you can create your pattern and then the finished skirt in just about an hour. And once you have the pattern, you can make yourself a closetful of skirts in a rainbow of colors.

Hooray for skirts!
Friday, October 21st, 2005
---
5:58 pm
- yay! updates!
I'm so happy, my site has been updated with some new jewelry, skirt kits, and other cool stuff. Hooray! Go take a peek if you have a minute!

A super cute shop here on N. Mississippi in Portland, Memoir, just ordered my skirt kits and sparkly jewelry so look for new pieces there. They also carry Queen Bee vinyl, the coolest letterpressed stationery, and Amet and Sasha skirts. And they host a craft night every Tuesday at 7, I'm going next week!

In other crafty news, our party to celebrate the release of Super Crafty was awesome! Hundreds of people came out to celebrate with us and win fun raffle prizes. We have some other fun crafty events coming up in Portland and Seattle... stay tuned or check out
super_crafty for an update on that on Monday!

We also put up some pretty amazing one-time-only PDX Super Crafty stuff on eBay! Our party host (aka my husband!) AC Dickson posted them on Tuesday.

Make your own holiday gifts at a swanky PDX Super Crafty party!

How about a crafty starter kit with vintage ball fringe, beads, buttons, cool fabric and more, all in a super cute vintage hatbox?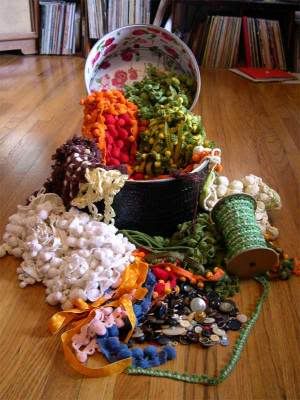 We're auctioning off this stylish sewing machine handbag, matching t-shirt, and a make-your-own denim skirt kit with DIY applique for the girl who loves sewing.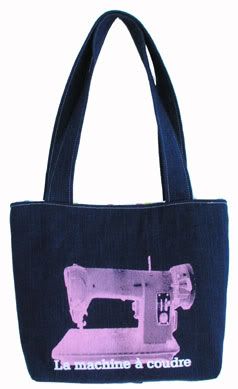 We also put together gorgeous sparrow jewelry, a belt buckle, brooches, and DIY appliques for one lucky bird lover.

Here's a signed Super Crafty book, t-shirt, tote bag, and goodie package...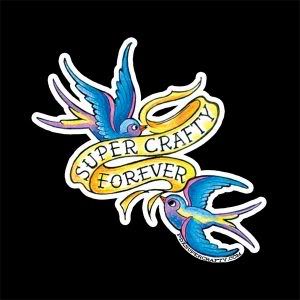 ...and here's a Super Crafty Mystery Package, you won't even believe all the cool stuff inside!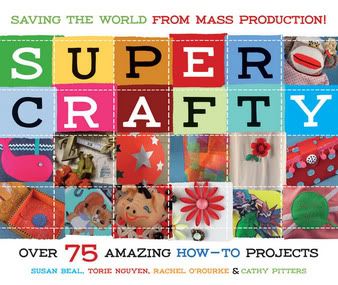 You have until next Friday afternoon, October 28, to bid on your favorites! :)
Monday, October 17th, 2005
---
3:00 pm
- a sneak peek at the new stuff going up on my site...
My web designer will be finishing my update soon, but here's a little preview of some of the stuff I'm especially excited about that's coming to susanstars.com soon! :)

First, there's my brand-new craft book Super Crafty, co-written with the women of PDX Super Crafty!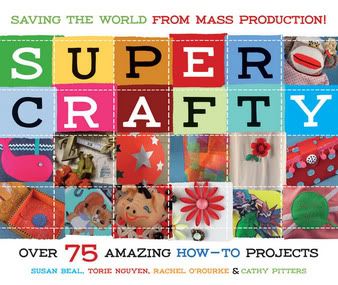 I also have a new skirt kit in five fabrics--black, splashy pink and brown flowers, denim, red, and mod squares!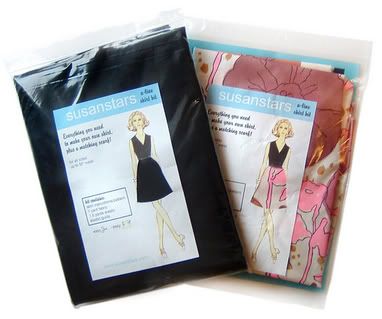 Then there's some cute new sushi jewelry...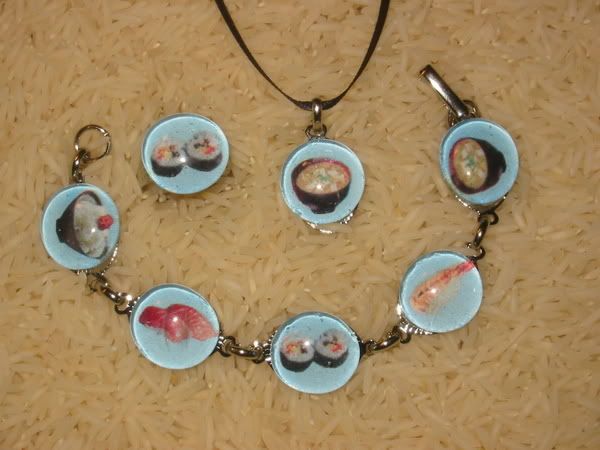 ...and new colors of my sparkle jewelry!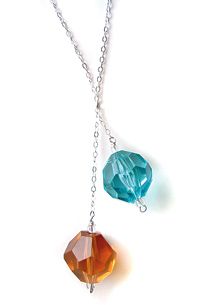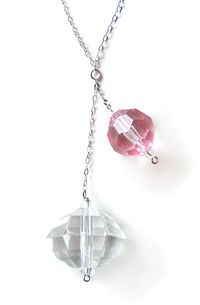 I'll be adding lots of new how-tos and cool stuff in the next month or so as well. I'm so happy to have some new designs out in the world!
Wednesday, October 12th, 2005
---
2:44 pm
- Cool crafty news--yay!
Friday, October 7th, 2005
---
2:53 pm
- my new West Coast Crafty column is up...
Ever wondered where the best thrift stores are? Me too! I asked dozens of cool crafty types where they like to shop secondhand and the results are in!

Check out my Guide to Thrift Stores on getcrafty.com. There are already more than 70 listed, with more pouring in all the time! I'm going to keep updating it so please let me know if I missed one of your favorites.

And if you want to find some of the coolest museums, shops, DIY nights and all things crafty in Northern California, Southern California, or Portland, just check out my last few columns--scroll on down.

Next month: Backstage at a Crafty TV Show! The girls of PDX Super Crafty and I filmed 4 episodes of Uncommon Threads this summer--showing the world how to make our super cute crafts! I'll tell you all about it, plus how to apply for shows if you're interested, and talk to other crafty designers who've made it on the small screen!