I was interviewed for an article on crafting in the Los Angeles Times! Here's an excerpt for you-- click here to read the whole thing!

[the handmade life] by Gendy Alimurung
(originally published Nov. 6, 2005)

Click on any crafter's website, and you can follow the links down a rabbit's hole into a bustling homemade world. The word in cyberspace this summer was that a supercrafter named Susan Beal had moved to L.A. Susan Beal, otherwise known as "SusanStars," was all over the place, literally and figuratively. She commuted regularly between here and Portland but had grown up in North Carolina. She wrote "Monster Mash: How to Sew Polar Fleece Monsters" for a fabric store's in-house magazine; "Chains of Love: Jewelrymaking" and "Buy Curious: How to Buy a Sewing Machine" for Bust magazine; "Fly Girl," an article on bird appliqués, for Venus; "Seeding a Business: How to Be Your Own Huckster" for ReadyMade magazine. She was also the official West Coast Crafty columnist for Getcrafty.com. At 31, Susan was the epitome of the one trait that all crafters have in common: By definition, a crafter is a doer. It takes a certain kind of person to hand-knit a scarf—monster pattern or not.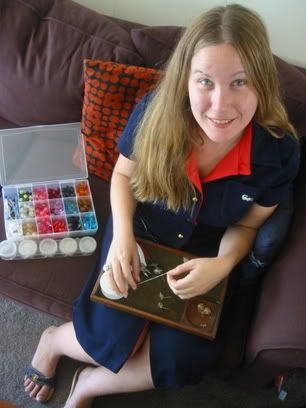 "It's so nice by the pool," Susan was saying. She lives in a modest apartment complex with a pool in the middle in Los Feliz. "Just having some water nearby is soothing." She said it so earnestly and so charmingly that you'd have thought she was talking about the pool at the Ritz rather than the tiny, leaf-strewn kidney bean a stone's throw from the curb, where someone had abandoned a sink, a mattress and a cat-scratched sofa. The neighborhood reminded me of the humble origins of the most famous crafter of all, who grew up in backwater Nutley, N.J., and now rules an empire—Martha Stewart is a notorious doer as well.

Susan's skirt was appliquéd with a yarn ball and two knitting needles and the motto "knit or die." She was working on the veil for her wedding. Her wedding dress was a throwback to the 1960s, in bright bubble-gum pink. Various completed projects were scattered about the living room: a quilted "laptop cozy"; homemade lip balms; a sweater whose arms had been drawn and quartered into a matching set of gauntlets, wristlets and CD pouch.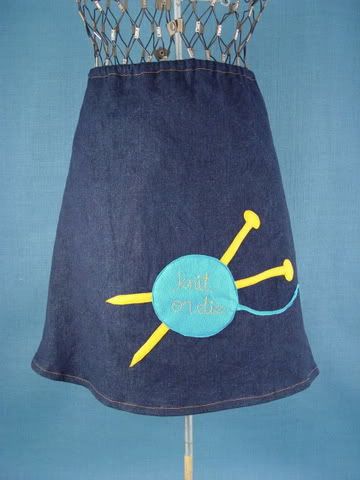 "Learning how to sew on a machine as an adult was like getting a new superpower," Susan said. She has a book of projects coming out that was co-written with three other crafters based on that very idea. The four are drawn on the back cover as superheroes, with go-go boots and capes a-flying. Among other things, they discuss how to make leg warmers for your dog, curtains for your car, a bike helmet cozy in the form of a ladybug, and five kinds of nipple "pasties."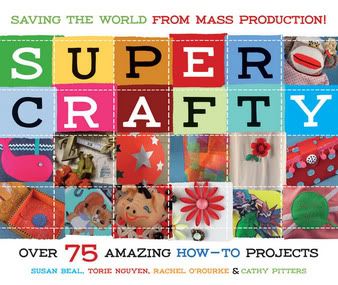 "When I'm doing business-related things, I sometimes have to take a break and make a shrine," Susan said. For Day of the Dead, she made a shrine out of her grandmother's old jewelry box. Inside was a gold chain with an ERA pendant. In the '70s her grandma had marched for the Equal Rights Amendment. "I didn't learn how to sew from her. She died before I got the chance. My mom, however, doesn't do anything crafty. It skipped a generation." She paused. "You know, you can make tiny shrines out of Altoids tins. I love those."

Susan says "love" a lot. And "fun." She loves the feeling that people have been doing crafts since time immemorial. She loves that when you're sitting around crafting, you'll start out talking about crafting, but then it will segue into something else. Something about your last vacation, or your family, or problems you're having with your boyfriend, and at the end of it, you've made a sweater. Sometimes she goes to estate sales and picks up abandoned projects, such as dresses that are half-finished, and then finishes them herself. It's about giving old things new life.